Opening Hours: Mo – So 11:00-14:30 16:30-21:00 (Kitchen)
Dine-in restaurant from 01.06.2020
Yangda 3rd Anniversary Celebration
October 16th-November 15th 2020, three times points discount
Please give your order at least

1 hour

earlier.
After receiving your order, we will contact with you with phone as soon as possible to confirm the delivery time.
1. During the trial operation of the online system, the delivery fee is favorable.
The minimum order amount for delivery is 30€.
Delivery fee: 2.99€ for order amount 30€-50€;
Free for order amount 50€
Delivery Zone: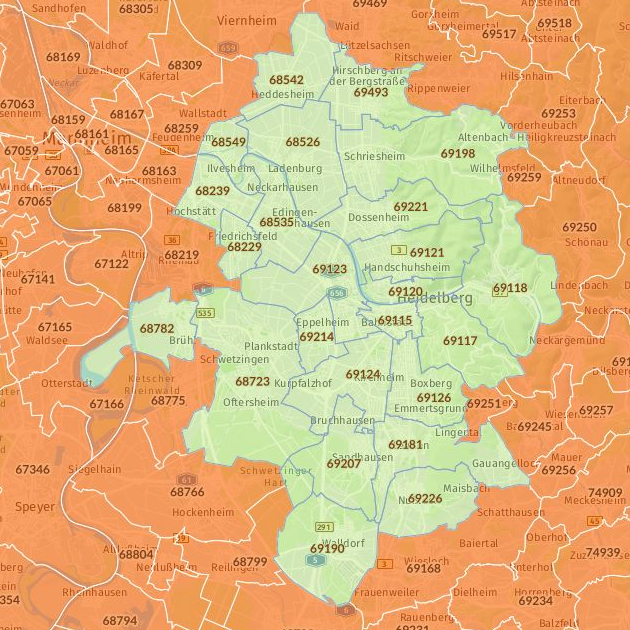 2. In addition to providing delivry service, we also set up 8 timed pickup points in Heidelberg and 2 timed pick-up points in Mannheim. All self-pickup services are free and there is no minimum order amount. Note: The time marked by the pickup point is the pick-up time, so all orders for pickup points need to be at least
1 hour

ahead of the pick-up time.
2.1 Restaurant self-pickup point:
Heidelberg Wieblingen(Neckarhäuser Str. 3,69123,Heidelberg) (All Openning Hours)
2.2 Heidelberg self-pickup point:
Self Pickup in Bahnstadt (Schwetzinger Terrasse Kindergarten) (Mo-Fr 12:00-12:15)
Self Pickup in City Center (Bahnhofstr. 4) (Mo-So 12: 30-12: 45; Mo-Fr 17: 00-17: 15)
Self Pickup in INF (INF227a) (Mo -Fr 13:00-13:15)
Self Pickup in Rochbach(Eichendorffplatz) (Weekends and holidays 12: 00-12: 15)
Self Pickup in INF(INF660) (Weekend and Holidays 13: 00-13: 15; Mo-Fr 17: 30-17: 45; Weekend and Holidays 17: 00-17: 15)
Self Pickup in Altstadt(Teeseele Bubble-Tea) (Mo-So 15:00-)
Self Pickup in HBF(McDonald's) (Weekend and Holiday 17:30-17:45)
2.3 Mannheim self-pickup point:
Self Pickup in Mannheim(Teeseele Bubble Tea N4 6, 68161) (Mi and Sa 15:00-)
Self Pickup in Mannheim(Dragon & Phoenix Asia Supermarkt: Maybachstr. 10, 68169) (Mi and Sa 15:30-17:00)